MD: Jury convicts woman in Cecil County molestation case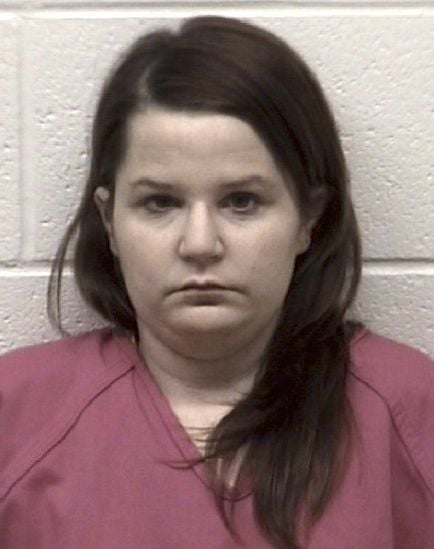 ELKTON — A woman is facing 15 to 105 years in prison after a jury convicted her of all charges in a case in which she stood accused of molesting a boy while babysitting him inside his Cecil County home over a three-year period – starting when he was 8 and she was 29.
Jurors deliberated about 30 minutes on Friday before finding the defendant, Nichole L. Rodecker, 33, guilty of child sex abuse, second-degree rape and two counts each of second-degree sex offense and third-degree sex offense.
Rodecker, who lives in the 200 block of Red Pump Road near Rising Sun, will remain free on bond until sentencing, which is expected to occur in six to eight weeks.
Moments after the jury returned the guilty verdicts on all counts, Retired Cecil County Circuit Court Judge O. Robert Lidums denied a motion by Assistant State's Attorney Mary Burnell to revoke Rodecker's bond.
Burnell had asserted that Rodecker had been convicted of six felonies after a three-day trial and, therefore, should be put back in jail and should remain incarcerated until sentencing.
Rodecker's defense lawyer, Robert Edmund Surmacz, countered that Rodecker, whom he described as "a new mother," needs to take care of a "her three-week-old child." Surmacz also argued that Rodecker had appeared for all of her previous court hearings without problem.
The boy, now 12, testified Wednesday that Rodecker started molesting him at some point when he was in third grade and that the sexual abuse grew in frequency and intensity over the next two years. Rodecker had been his babysitter since he was 4, he noted.
Rodecker started by touching his private area about once a week over his clothing, sometimes when he was on the couch watching television, sometimes when she woke him up in the morning or put him to bed at night, according to the boy's testimony.
She also walked into the bathroom when he was using the toilet and into the bedroom when he was changing, always opening a closed door to do so and always "making up an excuse" when he asked why, he testified.
When he was in the fourth grade, Rodecker started touching him under his clothes and later started making him take off his clothes for the fondling, he said. The molestation occurred "two or three times a week," he added.
According to the boy's testimony, the molesting increased to an estimated four times a week when he was in the fifth grade.
He also testified that, during that year, Rodecker started performing a sex act on him, in addition to fondling him and making him touch her naked body. In addition, according to the boy's testimony, Rodecker forced him into another sex act.
"I didn't understand what was happening," the boy testified.
But toward the end of fifth grade, the boy had a class in which he learned about "good touch" and "bad touch" and he started to grasp that he had been victimized, he told jurors.
"It felt weird. It happened to me," he testified.
Still, he didn't feel able to tell his parents, teachers or authorities.
"I didn't know what she (Rodecker) would do," the boy told jurors. He also testified that Rodecker classified the molestation as a "secret."
In addition, the boy did not come forward because the subject made him "embarrassed, uncomfortable," he testified.
Prosecutors reported that the molestation stopped by the time the boy reached sixth grade, at some point after Rodecker had learned that he would be taking a sex education class as part of his curriculum.
The boy told his mother about the molestation in November 2015 and later his father. His parents live apart, with the mother residing in Cecil County and the father in Baltimore County.
He first revealed the molestation around Thanksgiving – two days after Rodecker had informed the family that she no longer would be the babysitter because she "wanted to move on with her life" and quit, the boy recalled on the stand.
"I didn't care because of all the things she had done to me. I was really kind of happy," the boy testified when Burnell asked how the news of Rodecker leaving made him feel.
During a police interview on Feb. 5, Rodecker admitted to engaging the youngster in fondling and sex acts and explained that she did so because "he was curious," according to a videotape of that interview, which prosecutors played for jurors.
Rodecker provided detectives detailed accounts of the sexual encounters that she initiated with the boy, and they essentially mirrored the accounts that boy had given to investigators.
But at trial, the defense maintained that investigators had coerced Rodecker into her confessions and that the boy had fabricated the molestation. Rodecker testified Thursday that she felt intimidated, so she told investigators what she thought they wanted to hear.
Burnell scoffed at Rodecker's explanation during her closing argument Friday, however, emphasizing that the array of details given by Rodecker matched the multitude of details given by boy, although they were interviewed separately and at different times.
"The details were stunningly the same. She gave the same details (as the boy) about every instance," Burnell told the jurors and asked, "Why on earth would she give the same details about the same encounters?"
There was one exception.
While Rodecker painted the boy as the initiator of the fondling and sex acts – the age of consent for sex in Maryland is 16 – the youngster testified that Rodecker forced him to touch her and engage in sex acts and that whenever he tried to move away, Rodecker would pull him closer.
On the witness stand, the boy used the word "weird" several times to describe how he felt physically and emotionally during those incidents with Rodecker. He also described the sound that Rodecker made when he touched her and how her body felt.
Maryland State Police Det. Sgt. Steven Juergens tells Rodecker in the recorded police interview that the boy provided "details that a 12-year-old wouldn't know about unless he experienced them."
SOURCE